Maughan Farms / Hysham Ranch – $2,350,000 – Hysham, MT
Located near the Town of Hysham, Montana. Total of 4,083 acres including State Lease section. 184 acres under pivot irrigation. Complete set of improvements – residence, new shop building, 4,800 sq. ft, heated and insulated, and other miscellaneous buildings. Excellent mule and white tail deer hunting. Some merchantable timber. Beautiful ranch with easy access to Billings or Miles City. SALE – CONTINGENT!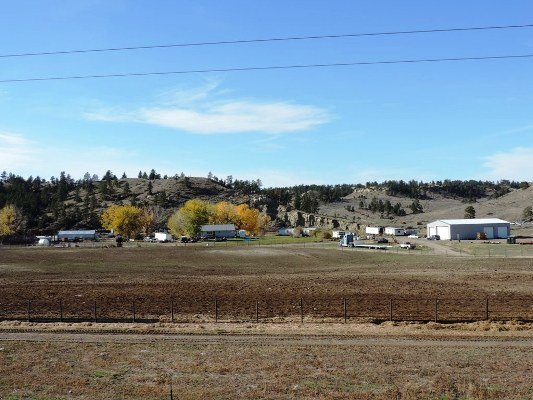 Download PDF Download Parcel Map
152 Cemetery Road | Hysham, Montana 59038
LOCATION: The Maughan Farm is located 75 miles east of Billings on I-94 and 28 miles west of Forsyth near the Hysham exit. Easy access with frontage road along the Interstate. The Town of Hysham is approximately 4 miles to the north and is the county seat for Treasure County.
DESCRIPTION: The ranch is very scenic with pine cover coulees and sandstone bluffs with grassy meadows. The grazing land is watered by wells and pipe lines.
There is a ranch road that traverses most of the back country for livestock management. Approximately 770 acres are south of the Interstate and are accessible by an underpass from the ranch buildings. The parcel is watered by a well and reservoirs.
The hay base is furnished by approximately 184 acres of pivot irrigation. Very adequate for the carrying capacity of the ranch.
IMPROVEMENTS: There is a 5 bedroom, 2 bath home with a fireplace, deck, and carport. A pole barn (34′ x 48′) with stalls and tack area, a single detached garage and other miscellaneous buildings.
A steel shop building built in 2014. 4,800 sq. ft. building plumbed for hot water heat in the floor, insulated and overhead doors. Excellent lighting in the ceiling.
Steel working corrals, alley ways, and maturity pens in barn. Certified weighing scale. Small feedlot area with bunks.
ACREAGE: Total acreage – 4,083: 3,448 acres deeded and 635 acres of State Lease
ACREAGE BREAKDOWN: Approximately:
– 184 acres under pivot irrigation
– 100 acres along creek as improved pasture
– 3,794 acres of range land
– 5 acres around building site
WATER: – 7 water filed water rights
– 5 wells on the property
– 2 springs
– Box Elder Creek – approximately 2 miles of creek bottom
– Irrigation water by the Hysham Water District from the Yellowstone River. Box Elder Creek has some irrigation rights.
WATER COSTS: For 2015 for the Hysham Water District – $8,447.00. Water charges assessed on your Real Estate Tax form.
POWER COSTS:$8,725.00 for 2015.
STATE LEASE COSTS: Rated 116 AUMS at $19.57 – annual cost $2,270. Expires 2024.
REAL ESTATE TAXES: $3,464 for 2015.
HUNTING CONSIDERATION: The ranch is abundant with white tail and mule deer. Elk are in the area and are on the ranch from time to time. Ducks, geese, turkeys, and pheasants all reside in the area and a number of them visit the ranch periodically.
CONCLUSION: The ranch is very scenic with the pines in the hills and sandstone bluffs. The crop production on the irrigated land is more than adequate for year around cattle operation.
The Box Elder Creek is year around which provides livestock water. Ideal for fall and winter grazing.
Interstate gives easy access to markets and shopping.
PRICE: $2,350,000
TERMS: Cash to seller.
Jake Korell 406-698-4600 | jake@montanaranches.com